COMPANY PROFILE
社長挨拶
Greetings from the president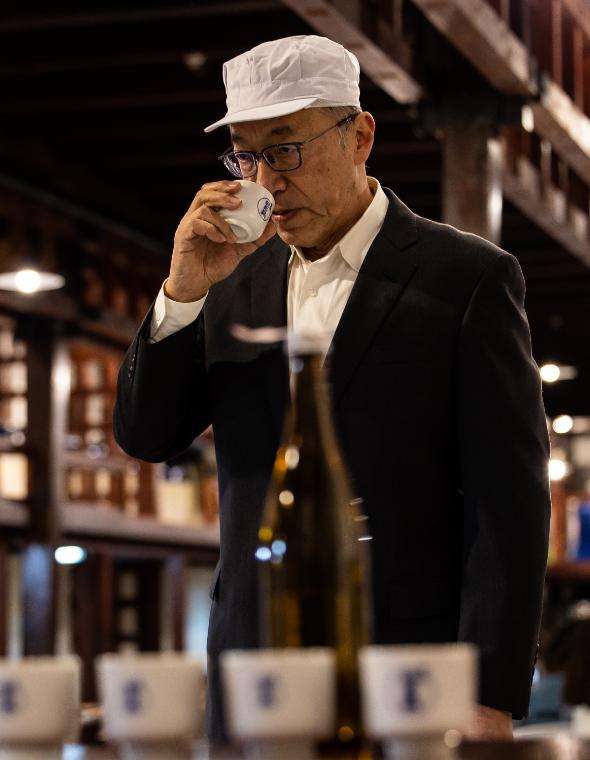 My name is Soichiro Matsumoto. As the 11th generation of my family to lead Matsumoto Shuzo Co., Ltd. since Jihei Matsumoto founded the business in 1791, I'd like to thank all our fans, suppliers, distributors, and everyone else in Japan and around the world, and most of all our employees, for their loyal support over the years.
In Japanese a sake brewer is called kurabito and a master brewer is known as toji. The official term for both occupations is seishu seizo-ko. The suffix -ko denotes a person who uses tools or machinery to turn natural resources into something useful. Written with the Chinese character工, ko is a craftsperson. The top stroke of the character represents "sky" or "the heavens", the middle stroke "person", and the bottom stroke "earth". A craftsperson is a person who uses his or her knowledge to connect people with the blessings of heaven and earth.
For us, ko expresses the essence of sake brewing. It is said that in ancient times sake was brewed to communicate gratitude to the gods. Sake also connects people emotionally, and is culturally intertwined with our art, our works, and our inspirations. Our desire is to use the finest sake rice and Fushimi's clear spring waters to craft the very best sake and deliver it along with our gratitude to be enjoyed by the people of the world.
On a personal note, before I took over the leadership of Matsumoto Shuzo Co., Ltd. I worked for many years at Honda Motor where I was involved in promoting Formula 1, a thrilling motorsport that unites racing drivers, mechanics, and fans at circuits around the world in high-speed battles at over 300 kilometer per hour. While F1 is very different from sake brewing, it shares the same passion for craftsmanship and connecting people emotionally.
Even as the times change, we sake brewers stay true to our roots. We change nothing about the process of brewing sake. With a sense of gratitude, we will continue to connect people with the blessings of heaven and earth through the enjoyment of fine sake.
I hope we will continue to enjoy your support. If you have any thoughts or comments, please do let us know.